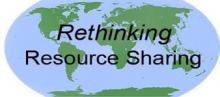 Le versioni italiana e spagnola della RUSA "STAR checklist", tradotte dal Gruppo di lavoro Internazionalizzazione di NILDE, sono ora disponibii sul sito "The Rethinking Resource Sharing Initiative".
L'elenco di controllo STAR offre al personale della biblioteca l'opportunità di rivedere le proprie politiche, procedure e servizi relativi alla condivisione delle risorse ed al prestito interbibliotecario.
NILDE sta lavorando ad una versione semplificata della lista di controllo (seguiranno istruzioni e indicazioni utili).
In ogni caso tutte le biblioteche che inviano la checklist estesa (versione 2) e conseguono da una a quattro stelle, riceveranno un certificato e una lettera di riconoscimento a conferma dell'impegno di una biblioteca nel ripensare la condivisione delle risorse.
The Italian and Spanish versions of the RUSA "STAR checklist" translated by the Internationalization Working Group of NILDE are available on the "The Rethinking Resource Sharing Initiative" website.
The STAR Checklist provides library staff with an opportunity to review and reflect on their resource sharing/interlibrary loan policies, procedures and services.
NILDE is editing a simplified version of the checklist (useful instructions and indications will follow).
All libraries that submit the STAR checklist (version 2) and receive one to four stars will be emailed a certificate and a letter of recognition which affirms the library's commitment to rethink resource sharing.